Initial Set-Up of PRISM Connect
Accessing PRISM Connect

Log into the PRISM Portal

On the left-hand navigation bar select Integrations

Then select the PRISM Connect tile


Establishing a connection to PRISM

If it is the first time a user from your organisation has accessed the PRISM Connect site, you will be presented with an option to manually configure PRISM API client credentials, or for the Connect application to automatically generate PRISM Client credentials on your behalf.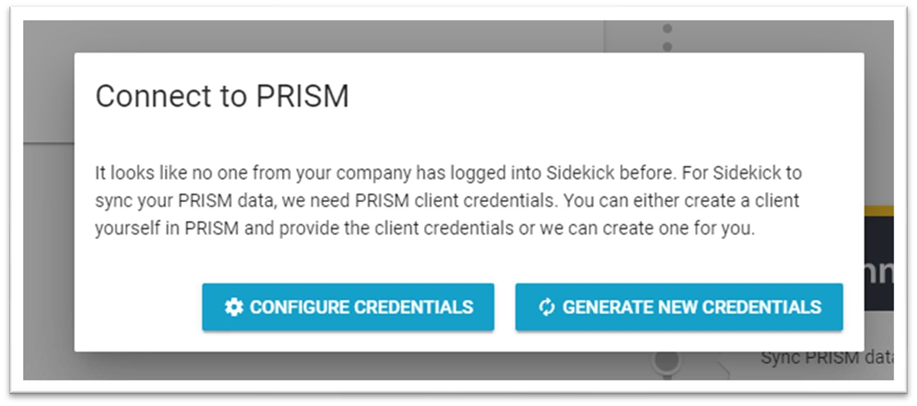 Either select CONFIGURE CREDENTIALS and fill in your API Client Credentials or click GENERATE NEW CREDENTIALS to have PRISM Connect generate them for you.

Generating PRISM credentials

Enter an email address. This is required by PRISM for reporting.

After clicking GENERATE the system will create new API client credentials on the PRISM platform and the Connections screen will display the green connected status for PRISM.




Related Articles

Setting Up ConnectWise

To set up ConnectWise as your PSA system through PRISM Connect, please follow the below steps before moving on to the next phase. Create or Access ConnectWise Account New Account: Create a ConnectWise account by visiting the ConnectWise website ...

How to begin with PRISM Connect?

The PRISM Connect journey can be broken down into five (5) phases, rhipe recommends that partners work through these phases in chronological order to make the best use of the tooling. Choosing and setting up your PSA Tool Setting Up ConnectWise ...

Configuring AutoTask

Connecting AutoTask to PRISM Connect On the Connections screen of PRISM Connect, click the CONNECT NOW button on the AutoTask card. Enter the AutoTask API Username and Password. Click to perform a check that the credentials are set correctly. Then ...

Configuring ConnectWise

Connecting ConnectWise to PRISM Connect On the Connections screen of PRISM Connect, click the CONNECT NOW button on the ConnectWise card. Enter the ConnectWise Site, ConnectWise Company ID, and API Keys. Then click Save After successfully configuring ...

PRISM Connect Troubleshooting

This section can be used to diagnose common warnings and errors reported in PRISM Connect. Warnings Warnings occur when a sync occurs and transfers data, but the outcome of the sync may need manual adjustment depending on your billing process Warning ...