PRISM - Customer Subscription Management Reports
Customer Reports – Subscription Management
To access customer reports, Login into PRISM using your user credentials and navigate to the reports icon on the menu.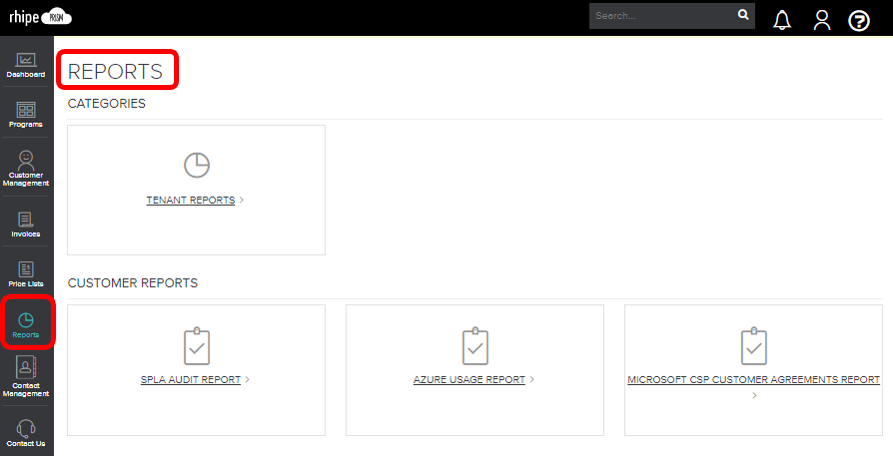 Once within the Reports page, there are multiple reports to cater for your needs, please navigate to the customer reports section and click on Subscription management report to view it.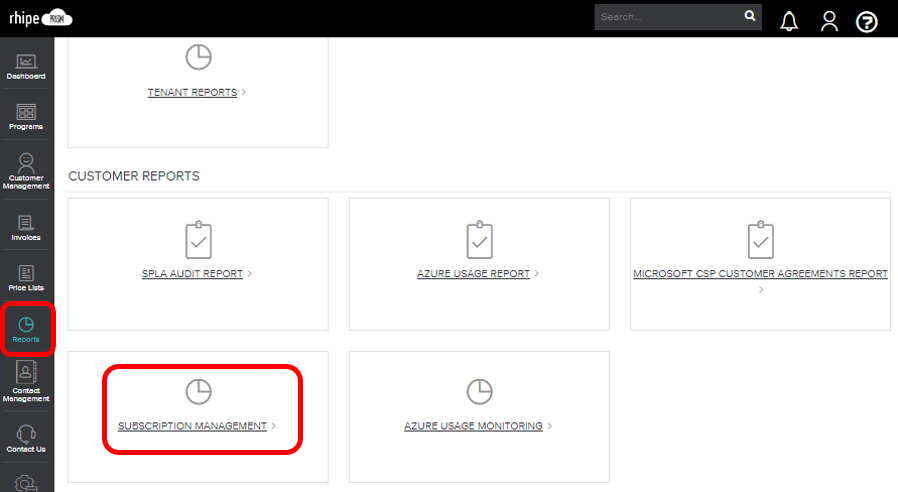 Once you have clicked on the Subscription Management report, the overview tab with the customer summary information will be displayed as the landing page.


Overview Tab: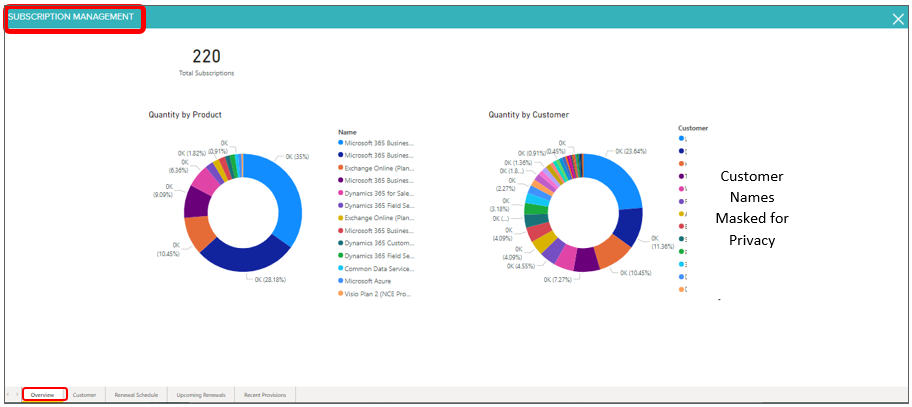 The Overview tab displays the total count of subscriptions existing under the Partner.
The subscription counts are segregated by Products and by customers using a donut chart.
Customer tab: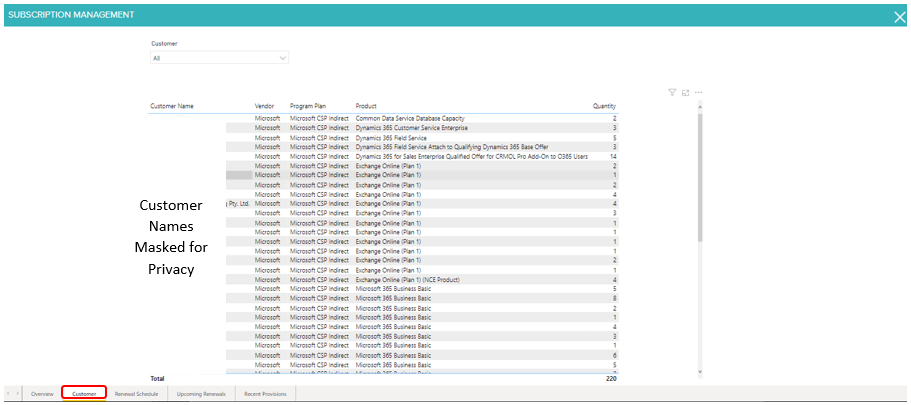 The Customer tab is a tabular report that can be filtered per customer or view all customer subscriptions and their quantity.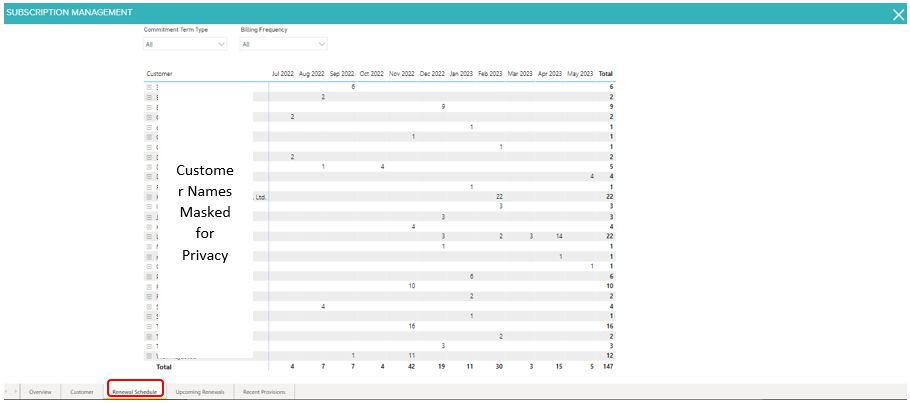 The renewal Schedule is a tabular report which displays the different subscriptions and their renewal months. The report provides you the option to filter between Annual/ monthly commitment vs billing frequency.
The report provides the capability to drill down into the customer record and exclusively identify the products and their renewal months.

In the example drill down provided above, the customer has 106 subscriptions, of which 65 subscriptions are due for renewal in Aug 2022 and 41 subscriptions are due for renewal in Feb 2023.
Upcoming Renewals Tab: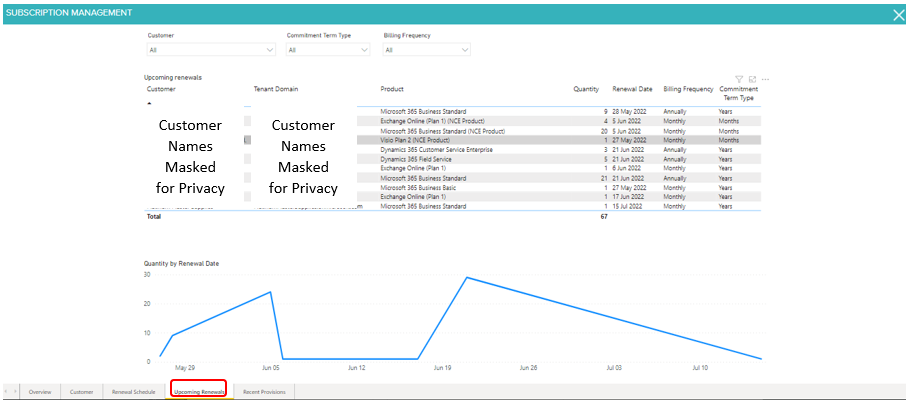 The upcoming renewals tab displays the subscription due for renewal with their renewal date.
Recent Provisions: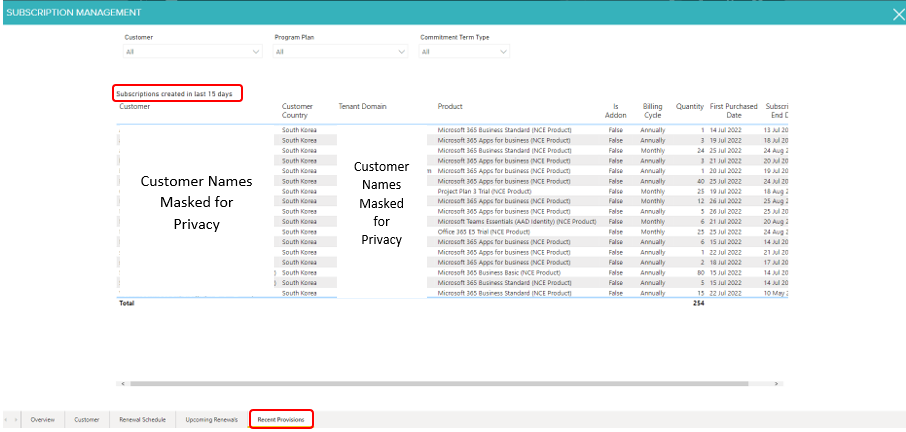 The recent provisions tab provides a view of all the subscriptions provisioned within the last 15 days.
Related Articles

PRISM Portal - Customer Management

Customer Management View existing end customers, and their associated programs Creating a new tenant requires you to create a customer record in the PRISM Portal. You can view all your customers in the "Customer Management" section on the left-hand ...

PRISM Portal - User Management

PRISM creation and management of users Once a partner is set up in PRISM, partners have the ability to create and manage users themselves. This means providing other staff with access to PRISM against their specific account. Create PRISM access for ...

PRISM API Integration

PRISM API Integration PRISM is built with an API first design. All actions made in the UI can be performed by using the same API Please find attached the following API documentation: PRISM API - GETTING STARTED.PDF - provides details and samples on ...

PRISM - Contact Management

PRISM Portal - Contact Management Partners now have the ability to manage their operational and financial contacts with rhipe from within PRISM directly. Contact Management within PRISM is quite straightforward, once you are logged into PRISM, click ...

Audit Reports in PRISM

Within PRISM there are three different types of audit reports that Partners have access to. These reports are designed to enable auditability to users actions in PRISM against various levels of data. Tenant Audit Report - this report is useful to ...