You will need to configure which programs to sync to ConnectWise. At this stage, only Microsoft CSP is available, but other programs may become available in the future.
From the Connections screen, click EDIT on the ConnectWise card



Toggle the Sync switch in the top right corner to allow syncing and choose your configuration options (more information below), then click SAVE.


Configuration options:


Product Sync Mode




All Products - all products from the PRISM Program will be synced to ConnectWise as Catalogue Items.

In Use Products only - Only products found in your Invoices for the synced Customers will be added.

Sync Azure Subscriptions




Azure usage will result on 1 Addition per Agreement with a Quantity of 1. Cost/Unit Price will be set to the line item's prices, and the Addition start/stop dates will be from the first to end of the month, regardless of the subscription dates.

Email Addresses (optional)




One or more email addresses to receive Notification emails when syncing this program. For example, Sync errors and Price Change warnings

Once you have configured a program to Sync, the program will show as a menu item, allowing you to quickly navigate and configure the program sync.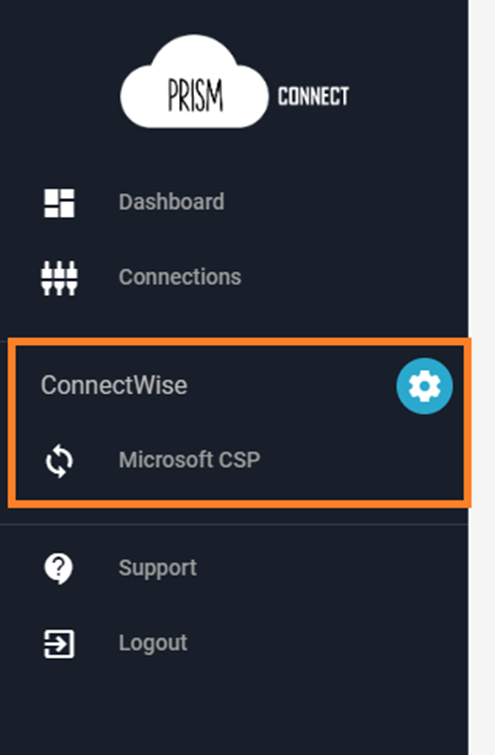 Product Sync

For PRISM Connect to correctly transfer billing items to ConnectWise it must have access to a product in the Product Catalog. PRISM Connect can create products in the product catalog which match the products on the PRISM price list but you can also "link" existing products in the ConnectWise catalogue so a new product does not need to be created.
For example, you might already sell Office 365 E3 to your customers meaning this product already exists in your product catalog and is linked to existing additions. To continue using this product with the Connect application sync you need to set the Vendor SKU field on the product to match the SKU for the equivalent product on the PRISM price list. You can use the Sync Preview button on the program configuration screen to preview which products the application can find a match for.
We suggest that you do this for all products prior to enabling the sync of the Microsoft CSP program.

NOTE: The sync will only sync products in the current price list, products that have been retired (i.e. no longer on your current program pricelist) will need to be added manually to your ConnectWise Catalog, you will need to reach out to the
rhipe program operations
to get the SKU as it is not available in PRISM.