Cloud Ctrl: Feature Price List FY22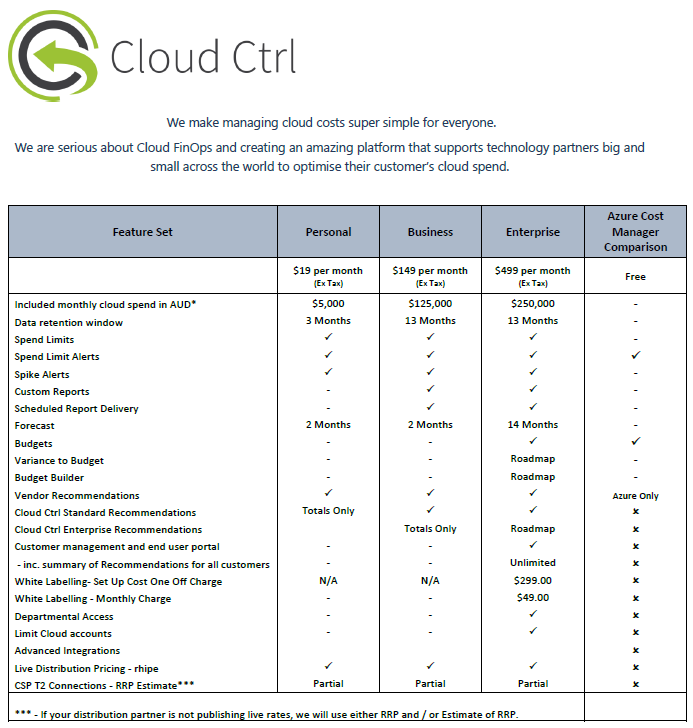 Related Articles

Consumer Price Rules

The Consumer Price Rules feature provides the ability to reprice PRISM Invoice line items when syncing via PRISM Connect, removing the need for Partners to manually modify the cost post sync in their Professional Service Automation (PSA) system. ...

List of Common Acronyms

Acronym Meaning AAD Azure Active Directory - Azure Active Directory (Azure AD) is a cloud-based identity and access management service. This service helps employees access external resources, such as Microsoft 365, the Azure portal, and thousands of ...

Microsoft CSP - NCE Add-on Prerequisite List

Please see attached list of NCE Add On SKUs and the prerequisite base products required. Please note that Add-On orders submitted without the prerequisite product will fail. Here is a link to download the file as well.

PRISM Connect Terminology

Please see below the list of commonly used terminology you may see within PRISM Connect and/or PSA systems. Any terminology that is specific to a PSA system rather than a collective for all PSA Systems will be called out within the title of ...